Highlights
New look and feel for both Cloud and On-premise customers

Performance improvements

Improved checklist management

Support for menu plugins in Cloud
Release of Handyman Routing menu plugin
Updated Handyman API
New look and feel
This version includes an updated graphic look with better contrast. With this change Handyman Office supports all screen resolutions, and we've even added individual options for using different colour combinations. This will also be the same for our On-premise customers.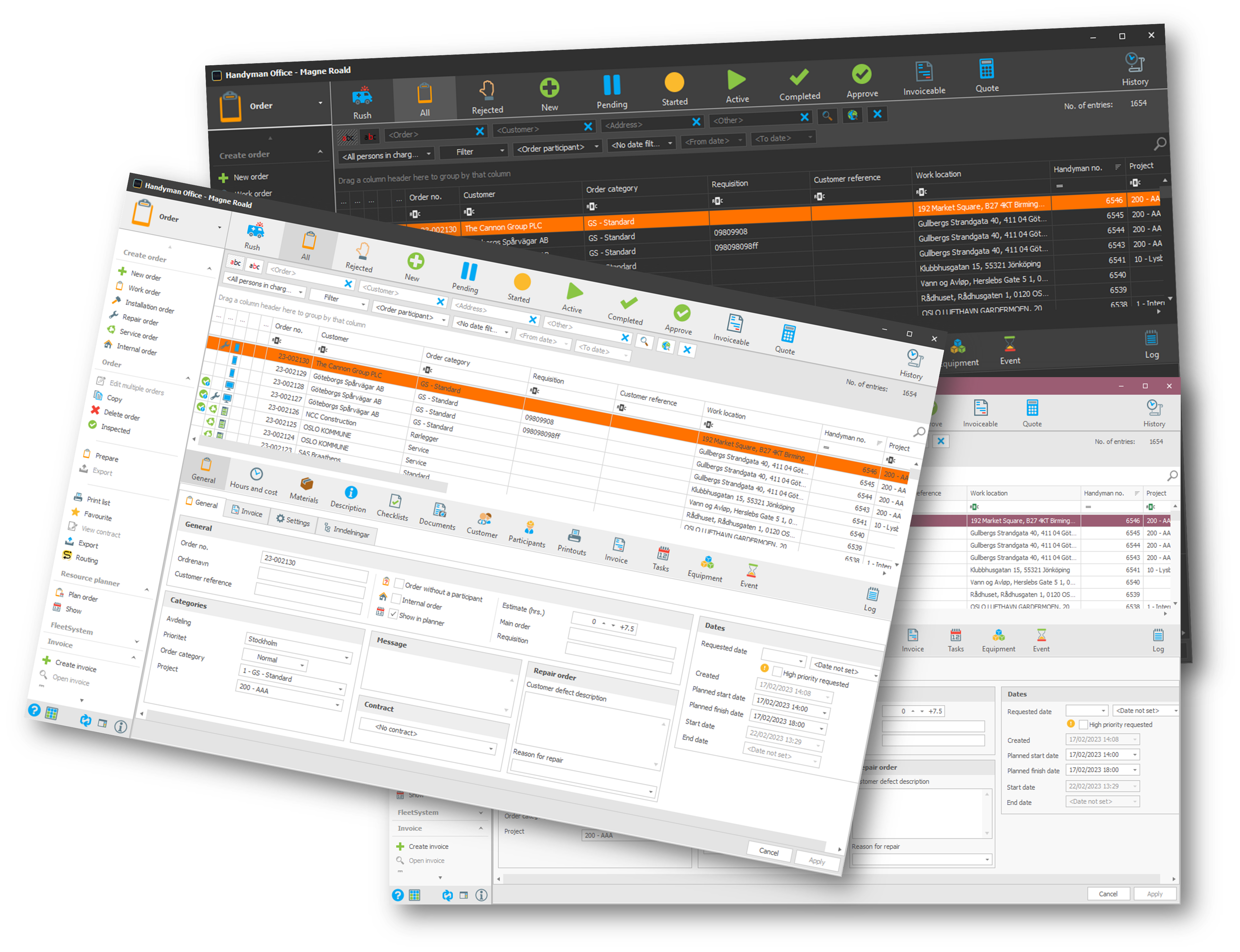 Performance improvements
For our Cloud customers we've made significant performance improvements in the new release.
This results in:
Much quicker startup for Cloud users
Faster access to the resource planner
Reports are displayed faster on the screen
Improved Checklist management
In this release we have new way of sharing checklist templates with our customers. We will now publish updates and new checklist templates independent of Handyman releases. This will give you much quicker access to new and updated checklist. The same applies to Dictionary and Wholesaler templates in the system.
In addition, new checklist management functions have been added:
Add new version of a checklist to quickly make changes to existing checklist
Create a copy of a checklist to make a new variant
Save and load checklist templates locally to easy move checklist between Handyman installations. Handy for moving a checklist from test environment to production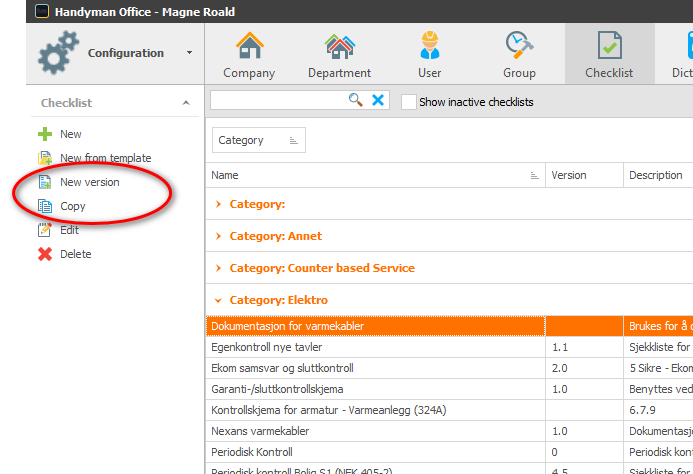 Support for menu plugins
We're also introducing support for menu plugins. Menu plugins make it possible to add custom functions in many places in Handyman independent of the standard solution. We understand that each of our customers may have unique requirements, which is why we're offering individual customer solutions. This solution is now available for our Cloud customers too.
We will also use this possibility to offer new functionality to Handyman for customers with more advanced needs. The first product we deliver this way is the Handyman Route Planner menu plugin.
Handyman Route Planner menu plugin
The Route Planner an advanced solution for handling planning of orders, equipment and tasks directly in a map view with the possibility to optimise the travel between the workplaces. It also integrates with out Fleet System solution to bring live position of assets in the map.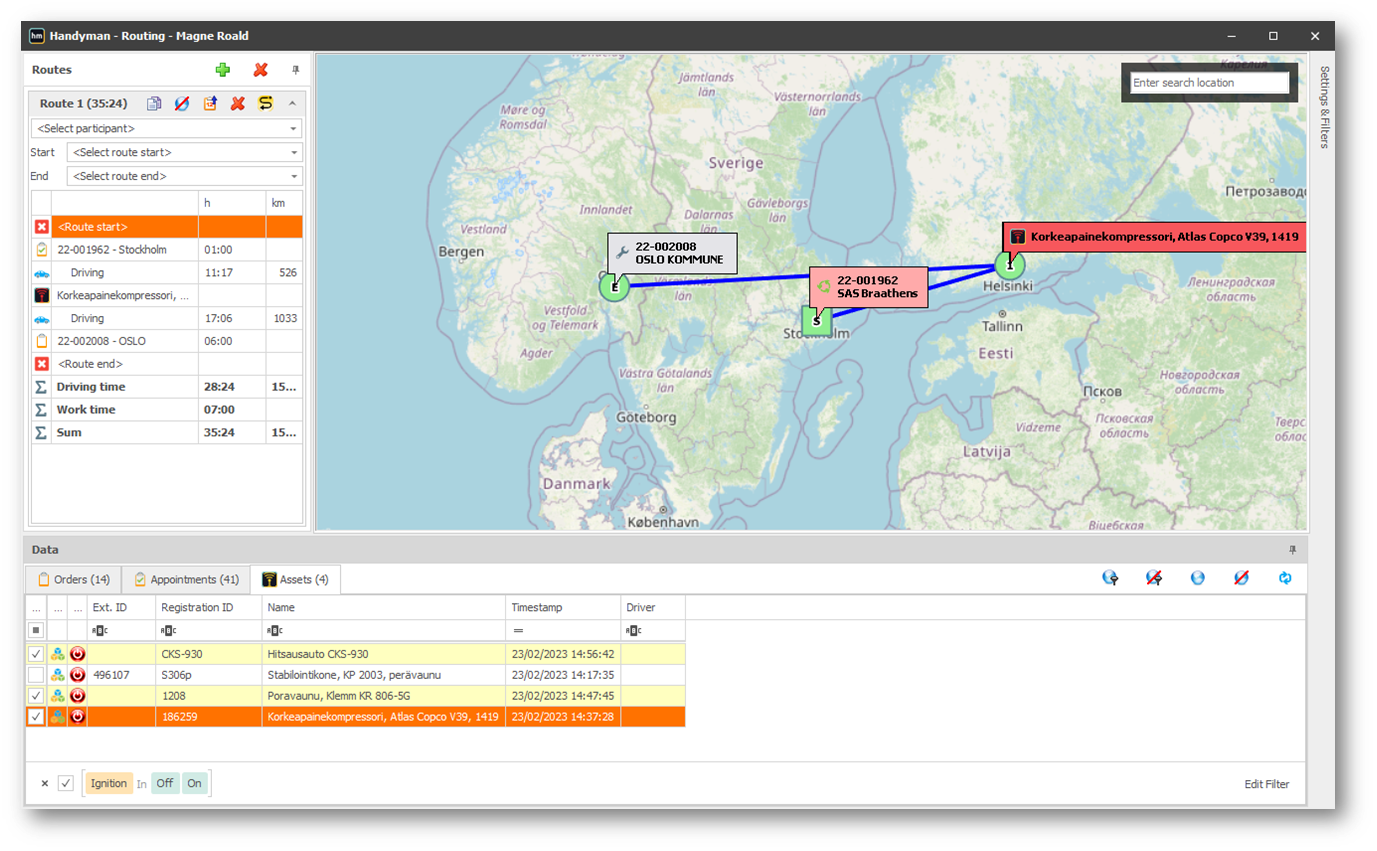 Se more in-depth information about the Route Planner here.
More plugins will be available from GSGroup in the months to come.
API changes
Several changes and additions to the API has been made in this release.
See separate release notes for the APIs here.
Other changes and important fixes
Window position and monitor is now remembered correctly for both Office and Resource planner windows.
Help (F1) now shows our support pages for Handyman Office. These pages are constantly updated with new content.
General stability improvements and bug-fixes
Updates 9.6.6
| | | |
| --- | --- | --- |
| 2023-03-16 | 9.6.6.30046 | Initial release |
| | | |