1. Introduction to departments
By default, Handyman always has a department and is fully set up. This is sufficient for simple service organizations. With the settings described here, you can set up Handyman to suit your organization and requirements.
Larger service organizations are often not homogeneous but are divided into different branches, regions, areas of expertise, etc. Such structures can be created in Handyman via departments. The establishment of various departments allows in particular:
Press different contact details in the report header (e.g. branch address)
Department-specific settings for automatic generation and delivery of reports
Restriction of access rights, in particular to:

orders
order categories
Various master data in service management (service forms, contract types, object types, etc.)

Department-specific naming of individual fields in Handyman (terminology)
Use of different configurations of Handyman in different departments (e.g. for creating new orders in Handyman Mobile or automatic synchronization)
The establishment of many departments allows for a very differentiated way of working with Handyman. At the same time, complexity is also increasing. We therefore recommend that you only set up additional departments if they are absolutely necessary.
Handyman allows a wide range of configuration options for departments. The following chapters point out the most important ones and show a typical configuration.
2. Handyman Mobile — General
Configuration - Department: Edit - Settings - Handyman Mobile
We recommend these settings: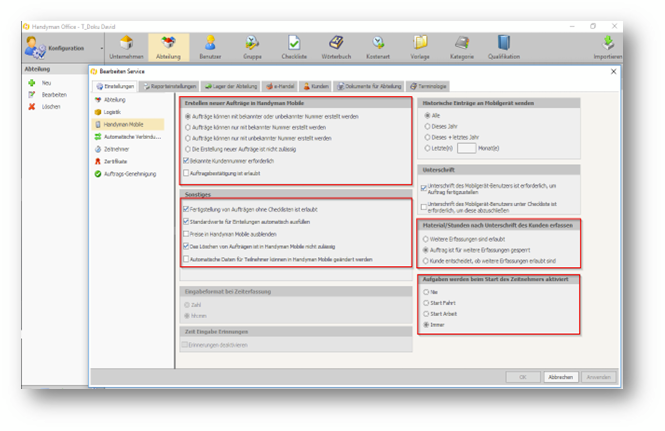 3. Handyman Mobile Automatic Connections
Configuration - Department: Edit - Settings - Handyman Mobile
We recommend these settings: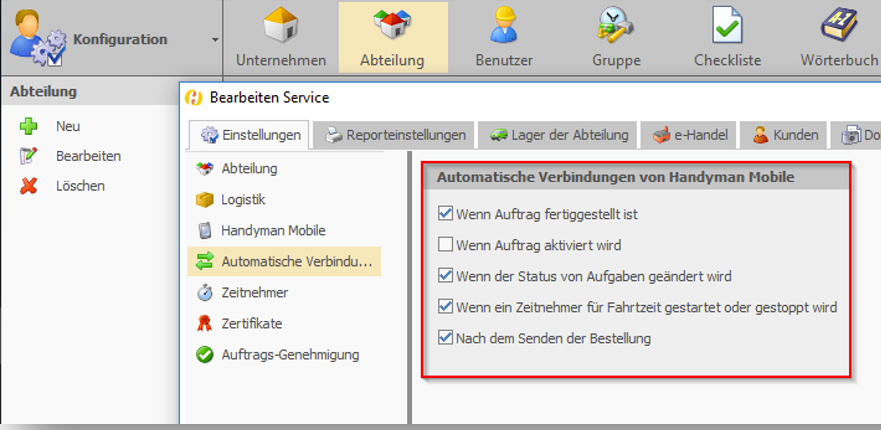 4. Create a new department
Configuration — Department: New
Create a new department, enter the number and name and configure it as described above.
If you have created several departments, the Handyman Office users must have rights to access the department. Either by having the role "Clerk" or by having the "Department Specialist" role and the department filter defines rights on this department.