Cost items are used to record costs and services provided by resources. In contrast to used material, they are not physically goods and are not stored. Typical examples of cost types are working time, travel time, kilometers, distance allowances or travel expenses, but also unproductive periods such as illness, vacation or training.
It is necessary to create cost items in order to use Handyman for time recording.
Configuration—Cost Element: New
1. Configuring a typical cost element
A typical cost element for time recording is configured as follows:
Number
Name
Unit: hours
Time type: standard time
Time entry required (this makes recording of start and end time mandatory)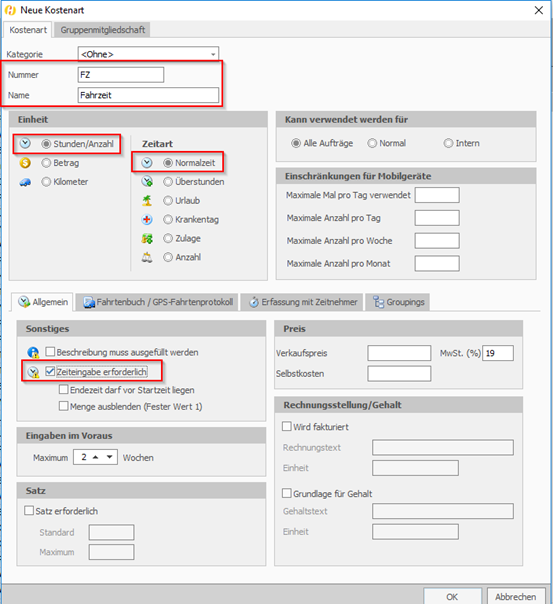 2. Timer Capture Configuration
For recording via a timer, it is also necessary to select which timer can be used to book the cost element in the Timer entry tab:

The "Adjustment is allowed" option controls whether the time recorded via the timer may be corrected manually. If this option is deactivated, incorrect entries by the user of Handyman Mobile cannot be corrected.
3. Assign the cost element to a cost item group
In order for the cost item to be usable by employees, the employee and cost element must be assigned to the same cost item group. Handyman Quick Start uses only one cost item group.
Select the Groups tab and add the cost item group to the cost element: