1. overview
Material consumption is recorded in Handyman either by entering a free text item ("Other Item") or by removing an item from a warehouse or by selecting an item from an article catalog.
Explaining warehouse management is beyond the scope of this quick-start guide. That is why we focus on setting up the article catalogs.
In Handyman, an article catalog belongs to a supplier. Even if you do not map the purchase of goods in Handyman, you must first create a supplier to maintain an article catalog for the supplier.
2. Creation of a new supplier
Logistics — supplier: New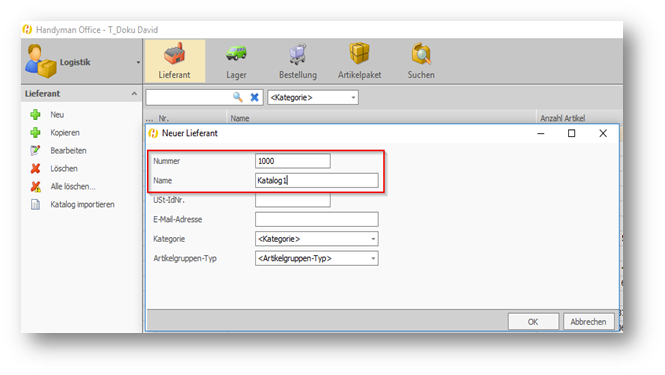 Enter at least the number and name of the supplier.
The supplier is later made available to individual employees via the specialist groups.
3. Creation of a new article
Logistics — Supplier — Supplier's Catalogue: Item in the Catalog - New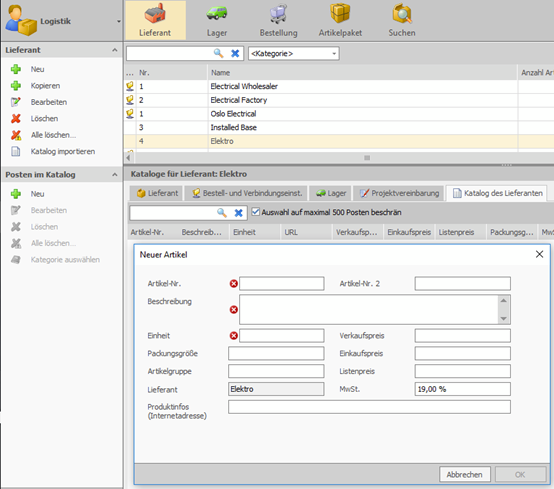 Fill out at least the marked mandatory fields for each item.
4. Importing an article catalog
Logistics — supplier: Import catalog
You can import an article catalog with costs and prices via a CSV file. To do so, follow the instructions in Handyman Office Help.