By pressing F3 on the keyboard or the Activity Log button on the bottom-left toolbar in Handyman Office the latest updates to the order list are displayed in a list on the right hand side of the order view.


In this log it is possible to see origin of new orders and changes to existing orders.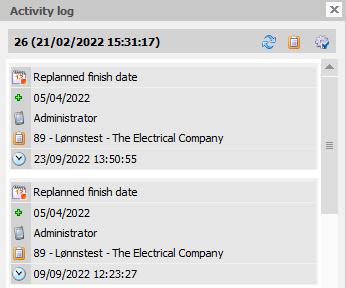 The entries consist of five lines.
The header that shows what change as been made.
The creation date of the order.
The name of the user that initiated the action.
The order number and customer name.
The date and time of the action.
At the top of this list is a number along with a date and time.
The number indicates how many new entries there are in the log since the last time it was updated and the timestamp shows the exact time for that update.
In the top right there are three buttons.
A refresh button for updating the log with the latest changes.
A button for viewing changes specific to order you have highlighted in the order list.
A button for accessing the saved search function.
The saved search allows you to create a repeatable search with specific criteria.
Criteria options include the following options.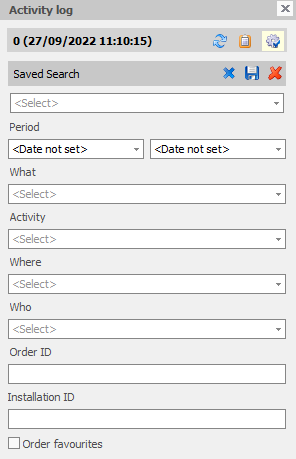 Period is where you set the time-frame you want to search.
What defines the elements you want to track.
Activity is split into two parts.

The first is the type of change you want to track, changes, deletion, or what is new.
The second is the specific element you want to track.

Category
Deviation
Extra order category 1
Extra order category 2
Priority
Started
Finished
Planned start date
Planned finish date
Not draft

Where is for determining the source of the change, deletion, or addition.
Who allows the search to target specific users.
Order ID can be either the ERP order number or the Handyman number.
To include more orders in the search use a comma to separate them.
Installation ID can be either the ERP number for the equipment or the Handyman number.
The checkbox for Order favorites turns the filter on and off.