1. Simple integration
There are two different types of integration in Handyman for exporting orders to the ERP system:
Regular integration: All data is automatically transferred from Handyman to ERP as soon as relevant changes are made
Simple integration: The export of orders is initiated manually via Handyman Office.
The Simple Integration setting can only be set by the IT administrator via the Handyman Control Center.
If your system is set up for Simple Integration, you can see if the "Prepare" item is visible in the Job menu in the desktop job.
2. Approve completed orders in Handyman Office
After the order has been completed by the technician and has been synchronized from the mobile device, it appears in the Handyman Office with a green check mark.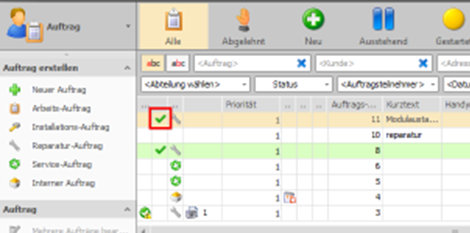 In order for the booked expenses to be transferred correctly to the ERP, they must be viewed and approved in the Handyman. You can do this on 3 levels.
At order level: This allows you to approve all expenses at once.
At area level: Here, for example, all entries in the "Hours and Costs" area are approved.
At item level: Here, each entry is approved individually.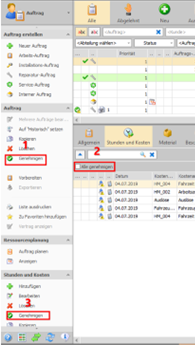 Once something has been approved, a green circle with a white checkmark appears next to the approved item. The order itself initially receives the same symbol with a warning note, which indicates that there are still items that have not been approved. This may well be intentional. If all items in the order have been approved, the warning note disappears.
Important: Only approved entries are transferred to the ERP!!!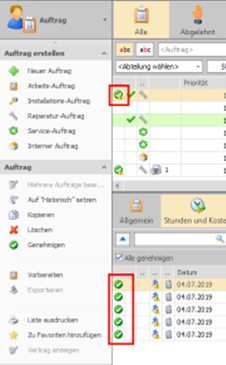 3. Exporting approved orders
Once all desired items have been approved and the order is ready to be transferred to the ERP, please click on "Prepare". This moves the order to an area from which it can be transferred.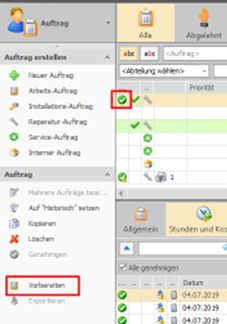 In the list that appears, please select all jobs that you want to transfer and click on "Export".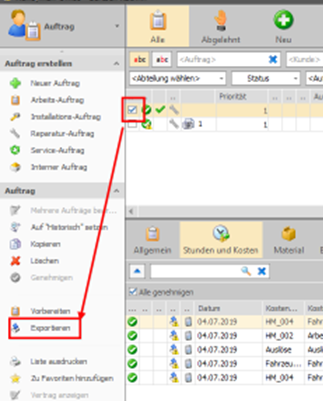 4. Set order to historic
After successful export, the view jumps back to the normal job list. For a better overview, you should now set the exported orders to "historical". As a result, they disappear from the list, but not from the system.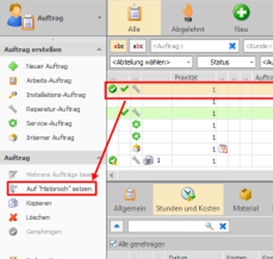 Confirm the action in the following dialog.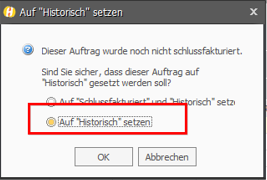 If required, you can also set the invoice status to "Last invoiced" there. The order is then blocked for further changes.
5. Step-by-step video guide