The creation of various order categories allows the classification of orders and the automation of individual processes, such as:
Distinction of different types of orders according to different order categories
Option to make customer signature mandatory for individual order categories
Option to only be able to create orders of a specific category in Handyman Mobile
Possibility to define standard checklists per order category, which are automatically added when the order is created
Possibility to define qualifications per order category, so that only qualified resources are displayed during scheduling
You can also use Handyman without creating an order category.
The most common settings for job categories are described below:
1. Create a new category
Configuration — Category — Order Category: New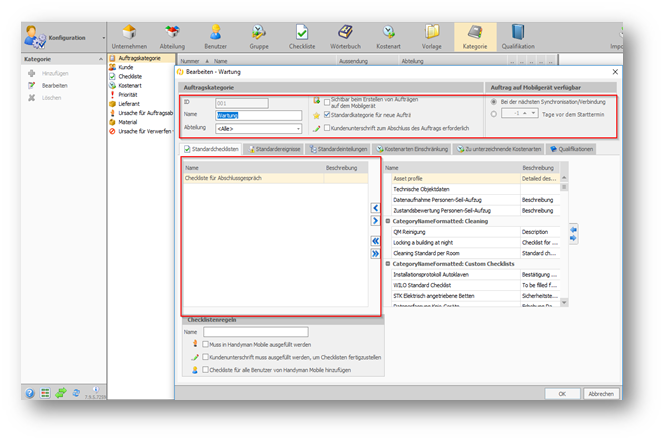 At the top of the dialog, you can specify:
Category name and number
Defines whether the category is available when new orders are created in Handyman Mobile
Standard category for creating new orders
Defines whether the customer must sign orders in this category in Handyman Mobile
Defines how many days before the planned order start date the order is available in Handyman Mobile. In this way, technicians can only view orders for the next 5 days in Handyman Mobile, for example. Use a value of > 0.
The Default Checklists tab allows you to specify which checklists Handyman should automatically attach when creating an order in this category. A new order can thus automatically receive all necessary checklists that are required for complete documentation.