Checklists are used as part of the documentation in Handyman orders, e.g. for test reports, measurement reports, maintenance checklists, etc. Setup is optional.
The Handyman Office Help describes checklists and the procedure for creating checklists in detail. Here is just a brief summary of the most important points.
Configuration Checklist: New
1. Create a new checklist
Create a new checklist: Configuration — Checklist: New
2. Add checkpoints to checklist
In the top left, click the New Checklist Item icon
In the selection box, select the type of checkpoint (defines which answer options are available in Handyman Mobile)
Enter the text that you want Handyman Mobile to display for the checklist item.
Under Definition, select the rules that you want to apply when answering.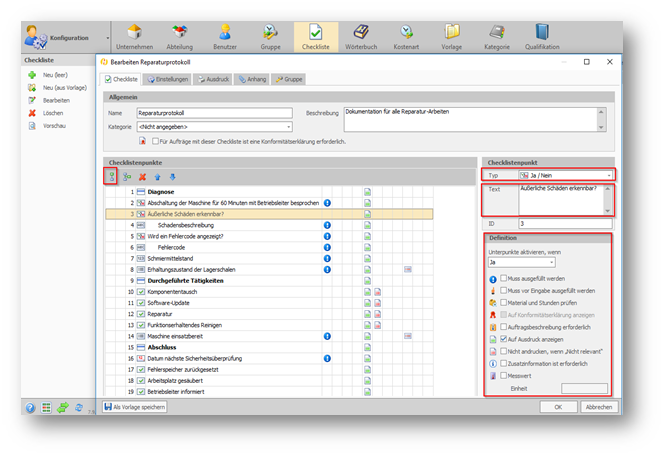 3. Assign a checklist to a specialist group
In order for employees to use the checklist, employees and checklist must be assigned to the same specialist group. Handyman Quick Start uses only one specialist group.

Add the checklist to a specialist group via the Group tab
Click OK to complete the entry.