In the Handyman main menu you will find different areas, lists and settings.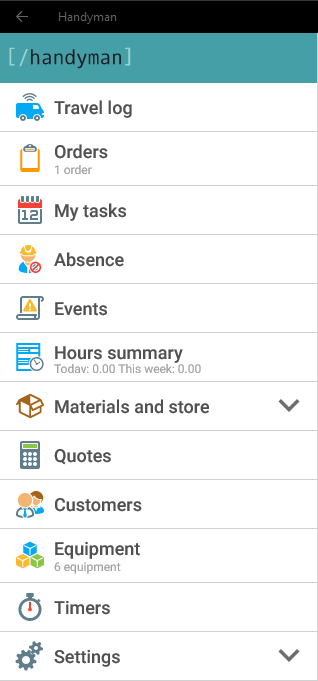 Travel log
If you have an integration with GSGroup fleet management, you can extract data from the tracked journeys and assign them to the corresponding orders.
Orders
Here you get to the job list, where all the jobs assigned to the technician can be found in the selected sorting.
My tasks
This displays an overview of your tasks.
Tasks are, for example, used if you are going to carry out work on an order at different times, or when it is important to follow up all participants' various tasks in order to meet customers' expectations concerning the work done. Tasks can be defined in Handyman Resource Planner or in Handyman Mobile.
The tasks will be visible in your calendar, and can trigger alarms to remind you of upcoming tasks that need to be carried out.
Absence
Here you can enter absences such as vacation or illness, which are then sent to the office.
Events
Depending on the licensing, preconfigured events are listed here that the technician can execute or discard. Depending on the configuration, this triggers further automated processes, such as the automatic sending of a specific e-mail.
Hours summary
Here the technician can generate a time sheet with all prescribed times, on which he can use his own filters.
Materials and store
Here you can query material stocks in the individual warehouses of the company, preform stocktaking and create purchase orders
Quotes
Here you manage your quotes and quote documents. You will find functions for sending, accepting and rejecting quotes.
Customers
Here you get an overview of all available customers. Corresponding detailed information can be obtained by tapping on the corresponding customer. Depending on the system configuration, new orders, installation locations or objects can be assigned to the customer via the context menu.
Equipment
In the equipment menu you will find a list of all equipment and site your user has access to. Depending on the selected view, all entries are displayed sorted by equipment number or in structure based on sites, where a site can contain sub-sites and a equipment can contain sub-equipment.


Depending on the system configuration, the following actions are available via the context menu of the equipment/site: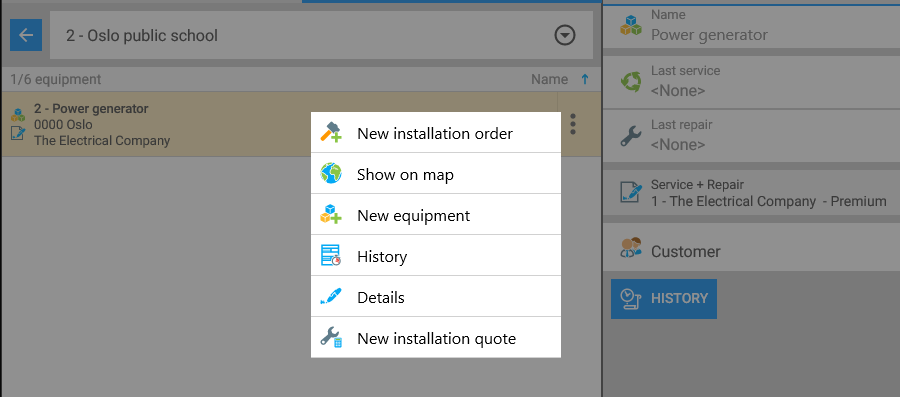 Tapping on the equipment/site takes you to the object/installation location details, from where you can select the object history or edit the object.
Timers
The timekeeper is a way of prescribing times on the order from the categories travel, work or break. The timer works like a stopwatch.
There is also a time report here, which you can use to view the times prescribed by the timer. The displayed period can be selected using the filter symbol. The default value is set to today
Settings
The settings that are initially relevant are described here