Whenever you click the "Hamburger Menu" (3 horizontal lines button) in the Handyman app, you will be taken to the Handyman main menu.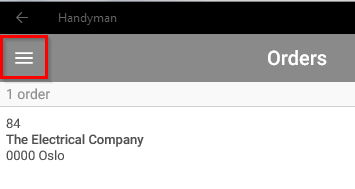 There you will find the "Settings" area.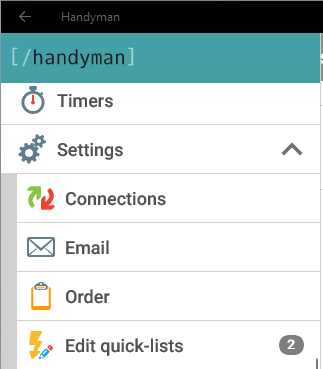 For the Handyman basic settings, we need the following setting items.
Connections
The connection address to the Handyman server must be entered here once. This can be an IP address or its DNS name. You will receive the address from your colleague in the office or IT administrator. This is the external address of the Handyman Synchronization Server



Email
Here you can select whether to send emails from Handyman, use a local email app or connect to the company's own email server. In the second case, the corresponding values are to be entered here.



Order
In this menu it is possible to set default values related to orders.
There is also a sub menu here for default values shown in the order summary available on Handyman Mobile.


Picture
Here please select the resolution with which photos should be taken in Handyman. A compromise must be found between small data size and recognizability of details.



Store and Ordering
This menu contains settings for users who have their own store and use purchase orders to order materials from suppliers.
If an item has a minimum quantity, it can be ordered automatically from suppliers when the amount is lower than a set value to save time for the user.
There is also a button that allows you to delete the contents of the store and replace it with the inventory count in Handyman Office.




Notifications
This menu contains the settings for displaying notifications from Handyman Mobile.



General
Here the user can decide if split screen is to be used or not. If the split screen is activated, the Handyman order list is permanently visible.



Basic data
This menu has options for cleaning out specific information from the mobile database or replace it with data from the server.